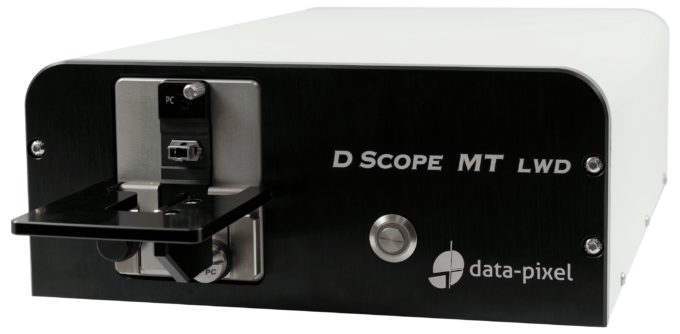 D SCOPE MT LWD
High resolution microscope for Multi-fiber connector
D SCOPE MT LWD
Description
DEEP LEARNING INSIDE
Designed for inspection of MPO connectors, patch-cords or bulkheads, the D Scope MT LWD checks the cleanliness of the connector face and precisely measures the defects on the optical fiber end-faces. Using Deep Learning technology associated with a high-resolution optical bench, the scratch and defect detection thresholds are significantly improved compared to traditional software.
Blink Deep Learning can be taught all types of defects indefinitely, including atypical shapes, giving this equipment unmatched capacity and detection reliability. Additionally, thanks to a second dedicated optical bench, the same unit can identify and quantify the pollution level of the full connector ferrule.  Still using a Deep Learning algorithm, it is now possible, for the first time ever, to provide automatic pass/fail criteria on the ferrule cleanliness.
Thanks to its high-quality mechanics, the D scope MT LWD is an extremely rugged unit ensuring endurance over time, even under high-volume production conditions. With these new features, the new Long Working Distance (LWD) D scope MT is the ideal instrument to verify fiber optic connector conformity.
Key features
Testing of PC/APC MPO connectors in cassettes/modules or in patchcord form

Testing of PC/APC single fiber connectors

Automatic Pass/Fail defect analysis on fiber optics

Automatic Pass/Fail cleanliness analysis on MPO connector endface

Deep Learning inside with defect teaching possibility

High resolution metrology equipment

Compliance with Industry Standards as IEC 61300-3-35

Intuitive Blink software with database connectivity

Compatible with desktop PC, laptop, tablet PC
Specifications
| | |
| --- | --- |
| Magnification (fiber screening) | x 480* |
| Defect size detection (μm) : | 0.4 |
| Outputs : | USB 3.0 + 2.0 |
| | 12 V |
| | |
| | 7.7 |
*On 24" screen, 96 dpi