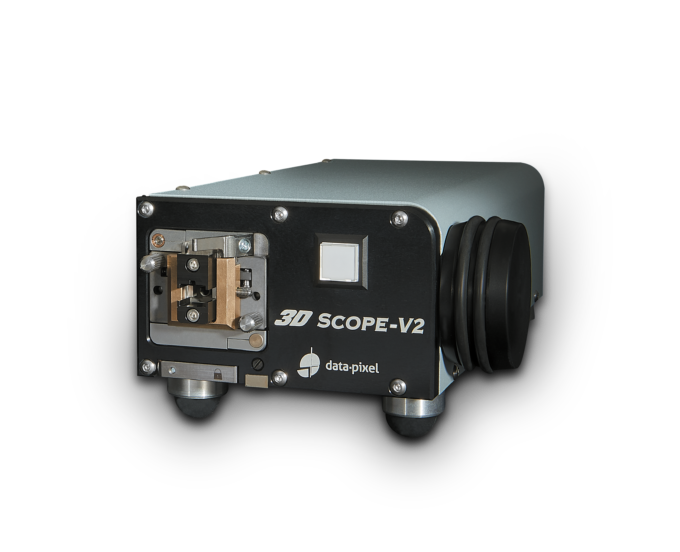 3D SCOPE-V2
Entry-level price Interferometer for geometry measurement of single fibers
3D SCOPE-V2
Description
Specifically designed for use in a production environment, 3D Scope-V2 is a robust, compact and easy to use interferometer that brings speed and precision to operators.
3D Scope-V2 supports our Blink software platform. Non-compressed, real time and high quality images are transfered from the hardware to the software via a USB 2.0 link in addition to the automation and control commands.
The 3D Scope-V2 interferometer is fully compliant with Industry Standards.
Blink is a software platform common to all Data-Pixel products. Dedicated plugins supports the Interferometry range of products : 3D Scope-V2, Daisi-V3 and Daisi MT-V3.PDF, HTML and CSV reporting capability with extensive database support (SQL Server, MySQL, ODBC, ORACLE,…) OLE automation support is available for dedicated application
Key features
Measurement of PC and APC connectors, ferrules and bare fibers
Lightning speed measurement cycle (0.5 sec)
PASS/FAIL result visual feedback via front panel start-button LED color
Integrated PC/APC tilt stage, no APEX re-calibration required
True phase-shifting interferometer
Vibration insensitive
Autofocus option
Compliance with Industry Standards for Interferometer Measurements
Intuitive BLINK software, with data-base connectivity
Measurement report in HTML format
Compatible with desktop PC, laptop, tablet PC
Specifications
| | |
| --- | --- |
| | |
| | 3 to flat |
| | 0 to 500 |
| | |
| Fiber cleave angle (degrees) : | 0 to 12 |
| Measurement speed (sec.) : | 0.5 |
| | X 400 |
| Output : | USB 2.0 |
| Power source : | |
| | |
| | 1.9 |