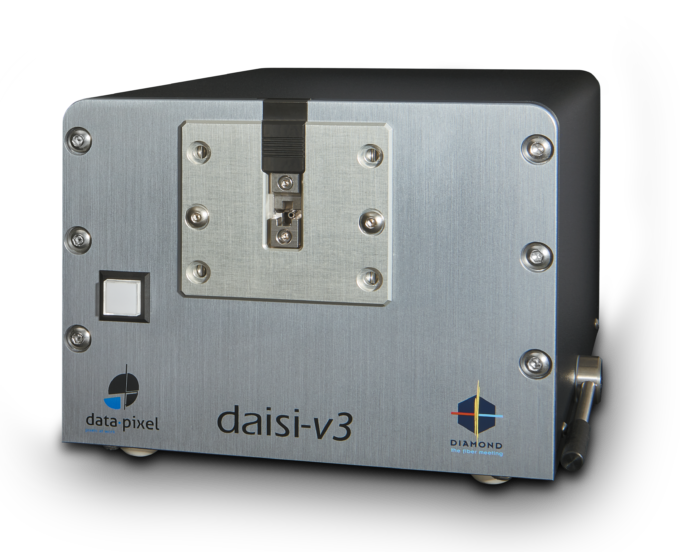 DAISI-V3
Digital Automated Interferometer and Microscope for Surface Inspection
DAISI-V3
Description
DEEP LEARNING INSIDE
The ultimate production interferometer for measuring end-face geometry on single-fiber connectors, equipped with a revolutionary «no-exterior-moving-parts» mechanical design.
The unit combines a x400 microscope and an interferometer in order to control connectors after polishing in a very short time.
With the Blink software, operators have the easiest way to produce customised control reports.
DAISI-V3 is fully compatible with Industry measurement Standards.
Blink is a software platform common to all Data-Pixel products. Dedicated plugins support the Interferometry range of products : 3D Scope-V2, Daisi-V3 and Daisi MT-V3. PDF, HTML and CSV reporting capability with extensive database support (SQL Server, MySQL, ODBC, ORACLE,…). OLE automation support is available for dedicated application.
Key features
Measurement of PC and APC connectors, ferrules and bare fibers
True phase-shifting interferometer
Non-contact measurement
Smart autofocus, focus only when required
Servo-controlled reference mirror for automatic apex calibration
Robust Motor driven automated Flange locking Mechanism
Vibration insensitive
Easy and fast switching from PC to APC, no change of fiber holder required
Compliance with Industry Standards for Interferometer Measurement
Intuitive BLINK software, with data-base connectivity
Compatible with desktop PC, laptop, tablet PC
Specifications
| | |
| --- | --- |
| | |
| | Red light |
| | 3 to flat |
| | |
| | |
| Fiber cleave angle (degrees) : | 0 to 12 |
| Measurement speed (sec.) : | 1 |
| | X 400 |
| Output : | USB 2.0 |
| | |
| | |
| | 6 |