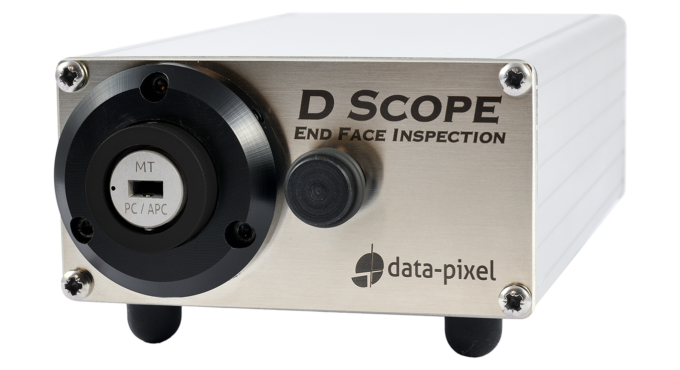 D SCOPE EFI – D SCOPE EFI-C – D SCOPE EFI-C LWD
End Face Inspection microscopes
D SCOPE EFI – D SCOPE EFI-C – D SCOPE EFI-C LWD
Description
The new D Scope EFI for MTP/MPO and multifibers field connectors  is a cost effective microscope for inspecting fiber optic patchcords and cassettes.
Easy to use, the D Scope EFI allows the operator to check the cleanliness of the endface or the guide holes  before any connection.
With the use of BLINK Deep Learning the D Scope EFI automates the cleanliness analysis of MTP / MPO connectors. The user can thus rely on the AI to define whether the connector is clean or should be reprocessed.
With the compact version, the D Scope EFI-C, the operator can easily move the microscope to the cable terminus to be inspected. All adaptors accept both PC and APC connectors or ferrules.
D Scope EFI-C LWD is dedicated to control connectors in adapters. The Long Working Distance of the optics allows the user to connect in all MTP / MPO adapters, whether mounted on a patchcord, in a cassette or in any type of box.
Key features
Inspection of PC/APC MTP/MPO connectors, Field connectors and MT ferrules
Real time full connector endface view
High resolution optics
Easy to use Autoexposure function
Adjustable polarized lighting for D Scope EFI
Intuitive Blink software with Deep Learning analysis
Compatible with desktop PC, laptop, tablet PC
Specifications
| | | |
| --- | --- | --- |
| | EFI (benchtop) | EFI-C / EFI-C LWD |
| Magnification : | x 50 | x 50 |
| Output : | USB 2.0 | USB 2.0 |
| Power source : | USB 2.0 | USB 2.0 |
| | | |
| | 0.76 | 0.35 |